Tzora Classic Folding 4-Wheel Mobility Scooter
$1,699.03 $2,100.00
Unavailable
Free Shipping (excl. Hawaii and Alaska)
1-on-1 Customer Support
Manufacturer-Backed Warranty Included
Questions? Call a Mobility Expert at 1-800-281-7560.
---
Tzora Classic Folding 4-Wheel Mobility Scooter - Blue is backordered and will ship as soon as it is back in stock.
---
The following is the Manufacturer's Warranty. We also offer CPS Extended Warranties.

Manufacturer's Warranty

Please read our entire Refunds and Returns policy.

Cancellations & Refunds: At Elder Mobility, we want you to be happy with your purchase, and we promise to do our best to make that happen. In the case of a refund, you can typically expect a credit back to your payment method within 7-10 business days. Here are some important things to keep in mind about our returns and refunds policy:


Cancellations (Before Order Ships)

If you need to cancel your order, please let us know as soon as possible before your order ships and leaves the warehouse, and we will refund you in full (exceptions apply such as custom and made-to-order products, see below). Contact us during business hours at 1-800-281-7560, use the chat in the bottom right, or email sales@eldermobility.com any time.

Cancellations of Custom and Made-to-Order Orders

We can't cancel or refund custom-made and made-to-order products because they're manufactured and built specifically for your order, starting as soon as we receive your request. If you're not sure if your order is custom or made-to-order, please message or call us to confirm.

All sales are final for custom-made and made-to-order products.

Refunds and Returns

If you need to exchange your product, you may do so, but you may be responsible for any shipping costs associated with the returns and exchanges.


Not all orders are eligible for return once shipped. Because we order directly from the manufacturer, if the manufacturer doesn't allow us to return a product, we can't offer you a return. For most manufacturers, the acceptable window to return a product is within 30 days after delivery. But this does not apply to every product. Please contact us or read the rest of this policy if you have any questions about returning a specific product.

Items must be unused and in the original packaging to be considered eligible for a return.

Due to increased shipping costs, any outright returns will incur a 20% cancellation fee plus return shipping costs. If you're replacing the product with something else, we may be able to help you cover some of the costs, depending on the product.

Manufacturers with less than 30 days return policy:

Karman Healthcare - return must be within 14 days of shipping.

Brands that are NOT eligible for returns due to manufacturer policies for online retailers:

Product types that are NOT eligible for returns due to sanitary reasons:

Beds
Bath and Toilet Safety products

Shipping Times

We try to provide you with the most accurate estimated shipping times on the product pages based on what we're told by our suppliers and freight companies, but sometimes there are delays beyond our control. Typical shipping times are between 7-10 days. If your order is delayed, please be patient and understanding as we promise to do our best to get your order to you as soon as possible.

Please Read the Following

When you are making a purchase from Elder Mobility, you are acknowledging the following of the Exchange Agreement:

I understand that it is my responsibility to inspect the package upon delivery, and if there is any damage, I must notate and take pictures of it and provide it to Elder Mobility within 24 hours of the product being delivered.
I understand that I am responsible for the cost of return shipping and the cost of a new product shipping in the case of a refund or exchange.
I understand that products must be returned unopened and unused, and that an additional restocking fee may apply.
I understand that if my order has left the warehouse, I am unable to receive a full refund.
I understand that if I choose to return my order once it has shipped, I will be responsible for paying any return shipping fees and restocking fees, which may vary by product, but are usually around 15%.
I understand that shipping date estimates provided on product pages are only estimates and may change due to factors outside of Elder Mobility's control.
I understand and agree that I will not cancel my order or file a chargeback for an order delay or because an estimated time provided to me turned out to be incorrect due to factors outside the control of Elder Mobility (such as manufacturing and logistical constraints of our partner companies).
I understand and agree that in a "repair/replace part" scenario, if the manufacturer has a warranty that includes parts replacements, you may not eligible for a return if you opt out of letting the manufacturer fix and repair the product.

Damages

When you get your item(s), please check the packaging for damage. If you notice any damage, write it down when you sign for delivery. If your item(s) are damaged when they arrive, email us photos of the damage, box, and SKU, and a brief description of the damage to sales@eldermobility.com. You need to send us photos and videos of any freight damage within 24 hours of arrival, or the claim won't be valid. Any punctures or visible signs of exterior damage must be reported within 24 hours.

Warranty

Different products have different warranties - please check the product page for details. Warranty damage happens over time from using the product. If the item was damaged when you got it, and you didn't tell us within 30 days, that's not a warranty claim.

We now offer extended warranties and accidental product protection through our partner CPS. These plans will be visible on the product pages of eligible products. 

Returns

Normally, customers are responsible for all return shipping costs and fees, unless the product page says otherwise. Almost all of our products have a warranty policy, so you'll get a fully working product without any extra costs. Please check individual product pages for more information.

BOGO Promotions

If we have a "buy one, get one" promotion, you have to return both items for a full refund. If you return only one item, you'll get a replacement or a store credit for the value of that item. If we've already shipped your order, you'll be responsible for any return shipping and potentially a restocking fee depending on the manufacturer. We can only issue refunds to the original credit card used for the purchase. 

Individual items will have varying refund and return policies depending on the manufacturer. Please see individual product pages for details or contact sales@eldermobility.com.

Chargebacks

Our team is here to help you resolve any issues. We are on your team, and we are immediately responsive. We've made our policies as fair as possible, and we promise to do our best to work with you and come to a resolution. 

Because of this, if you file a fraudulent chargeback, it's considered theft and you could be held criminally liable. If you have any issues with your product, please contact us and we'll help you resolve it. Please don't file a chargeback for something we can fix together.

We hope this policy helps you understand how we handle returns and refunds. If you have any questions, please don't hesitate to contact us.

BY USING THE SITE, YOU AGREE TO THESE TERMS OF USE; IF YOU DO NOT AGREE, DO NOT USE THE SITE.
Price Match Guarantee

At Elder Mobility, we are committed to offering our customers the lowest prices, backed by our 100% Price Match Guarantee.

If you find a lower price for the same product on another online store within 30 days of your purchase, let us know and we'll refund you the difference.

Also, if you find that the price of the product you ordered from our store has been reduced within three months of your purchase date, we will refund the difference.

To request a partial refund, please send us an email with a link to the same product on our website or on our competitor's website within six months of your order date.

We will review, verify that the competitor is an authorized retailer, and refund you the difference to your original form of payment.

Terms and Conditions

We cannot match prices for products that are out of stock, or for promotions such as rebates and buy one, get one free offers.

Competitor must be an authorized retailer of the item you have purchased, and not 

a discounter or auction website.
The price match guarantee includes the item price, sales tax, and shipping charges, but does not apply for exchange orders.

Excluded Brands

The following brands/products are excluded from this promotion.

Most of the time, we still may be able to price match these brands/products so it is still definitely worth reaching out to us and inquiring, but these brands/products are not guaranteed 100% of the time by default like most of the brands/products we carry.


Combining the stability of 4 wheels with excellent maneuverability, this extremely lightweight scooter can be taken apart and folded in a few seconds.
The total weight of the Classic is only 28 kg (62 lbs). Separated into 3 parts, the heaviest part weighs 13 kg (29 lbs). With no connectors, latches or mechanisms to open when folding or taking apart, the Classic is simply the ideal scooter for all your activities.
Quick and powerful, yet safe and stable.
Folds easily and quickly. No need to bend or lift heavy parts.
Ideal for running errands or for just wandering around.
Ergonomically designed for comfort and functionality
Detach the battery pack and carry inside for recharging.
Great for indoors and outdoors. Wheels are non-marking and never go flat.
Easy to transport as one piece or as two pieces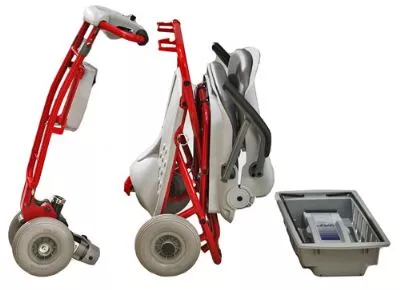 The Compact foldable design of the Classic scooter allows you to easily fold it into one lightweight portable piece, or two more manageable pieces. It is easy to see why the the Classic scooter has been given the highest rating in its class.
Carrying capacity          
250 lbs             
115 kg
Width                            
22 inch             
57 cm
Height                           
36 inch             
91.5 cm
Total weight                 
62 lbs               
34 kg
Folded (vertical)           
31x22x19 inch 
80x57x49 cm
Front column                
22 lbs               
10 kg
Rear frame                    
32 lbs               
15 kg
Battery Weight             
20 lbs                
9 kg
Battery Range              
up to 8 miles     
up to 13 km
Manual
Click here to view the Classic\Lexis User Manual
Warranty
Thank you for your interest in the products of Tzora.
This Limited Warranty covers any defects in material or workmanship under normal use during the Warranty Period.
During the Warranty Period, Tzora will repair or replace, at no charge, products or parts of a product that proves defective because of improper material or workmanship, under normal use and maintenance.
Tzora will either repair the Product at no charge, using new or refurbished replacement parts.
The Warranty Period is as follows:
3 years for metal frame
1 year for electric parts.
6 months for Batteries & Batteries charger
From the date of purchase.
A replacement assumes the remaining warranty of the original product from the date of replacement or repair, whichever is longer.
This Limited Warranty does not cover any problem that is caused by: conditions, malfunctions or damage not resulting from defects in material or workmanship. 
Please contact sales@eldermobility.com for more information.
Returns
All customers are entitled to return the scooter if they are not satisfied with the product. The time frame to declare that they wish to return the scooter is 14 days from receiving the scooter. However, if the scooter is to be returned the customer must cover the cost of delivery and the cost of return.
The customer can only return the scooter under these conditions:

It is still in the original package it arrived in
No damage has been done to the scooter
Please feel free to call us for more details.
We are 110% committed to giving our customers the best deals and offers on the market.

At Elder Mobility, you can take advantage of:
Free shipping, so you can save more money
Price match guarantees on virtually every product, so you can get the lowest prices period
Manufacturer Backed Warranty, to give you maximum peace of mind
1-on-1 customer support before, after, and during purchase, so you're never left on your own, and
Exclusive deals and offers that you won't find anywhere else.
By default, we set applicable products at the Minimum Listing Price that is set and required by our suppliers. Suppliers and brands set a price, and retailers like us have to adhere to those prices. We cannot list or advertise our prices lower for applicable brands/products, but we can offer discounts and cashback to get around this pricing requirement (which we love to do).

That being said, if you find an authorized retailer selling an applicable product cheaper than us, send us a screenshot and link to the product page, and we will beat that price in the form of a discount. Please check our Price Match Guarantee for full details.
Payment & Security
Payment methods
Your payment information is processed securely. We do not store credit card details nor have access to your credit card information.